DUBROVNIK GASTRO TOURS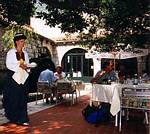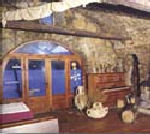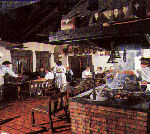 RESTAURANT "KONAVOSKI KOMIN"
Restaurant « Konavoski Komin» located in a small Konavle village Velji Do introduces you with the life and the customs of local inhabitants. Beautiful view on Cavtat and Zupa Riviera, and the pleasant atmosphere give you opportunities to spend some unforgettable moments with your family, business partners.
Enjoy the traditional dishes of this region: smoked ham, cheese kept in oil, young lamb and veal baked under an iron bell, home made bread, domestic choice vines and other specialties.

Smješten u malom konavoskom selu Velji Do restoran " Konavoski komin" upoznava vas sa životom i običajima starosjedilaca. Predivan pogled na Cavtatsko-župsku rivijeru, te ugodna atmosfera omogućit će vam da provedete nezaboravne trenutke s vašom obitelji, prijateljima, poslovnim partnerima.
Uživajte u tradicionalnim jelima ovoga kraja: pršutu, siru iz ulja, mladoj janjetini i teletini ispod saća, domaćem kruhu, izabranim vinima ovoga kraja i ostalim specijalitetima

GVEROVIĆ ORSAN - ZATON
On the way to Dubrovnik, you must not miss visiting Gverovic's Restaurant "Orsan" in Zaton, the genuine, ancient "orsan" (italian name meaning arsenal), the natural extension of every old summer home., Orsan, which mister Niko Gverovic wrenched from the teeth of time in order to deliver it to the discerning tastes of those acquainted with gastronomic delights, and transforming it into a temple of excellent repast. ¸
Memorable food has always been the foundation of Orsan, a gathering place away from without today's fast pace, in the area of lasting beauty, Orsan's own terrace is equally caressed by sun and shade, refreshing after a sizzling hot day, particularly under the convenient terrace roof.
Your "holiday's wheels" will be vehicles of enjoyment for both body and soul. Your boats of curiously, refreshed at Orsan, will sail on to new enhancements in the world, with a burning desire to return again to the place you found so lovely; where you tonight : I could stay here for a long, long time". That is Zaton, and that is Gverovic's Orsan.
Na putu za Dubrovnik ne smije se mimoići Gverovićev "Orsan" u Zatonu, pravi stari orsan (tal. arzana, arsenale), prirodni produžetak svakog starog ljetnikovca, orsan kojeg je gospar Niko Gverović oteo zubu vremena, da bi ga predao istančanom duhu poznavalaca delicija, pretvorio u hram dobre trpeze.
Trpeza je uvijek bila čvrsta točka, okupljalište bez žurbe, dakle mjesto trajno lijepo a orsan sa svojom taracom koju podjednako miluje sunce i hlad, ugodan nakon žarkih ljetnih pripeka, najprikladniji joj je krov.
Svakoj vašoj "kući putujućoj"on će biti mjesto odmora i užitka, užitaka duha i tijela. Vaša će brodica znatiželje, u njemu osvježena, krenuti zatim dalje u susret novim čarima svijeta s neizbrisivom čežnjom da se ponovo vratite na to mjesto, gdje vam je bilo lijepo, gdje niste žurili, gdje ste pomislili: Ovo je mjesto na kojem bih mogao ostati dugo, dugo…
Takav je Zaton, takav je Gverovićev Orsan


KONAVOSKI DVORI
The pace of our daily life is increasing. In the time of mobile communications it is hard to set aside some time for private life, family, friends. Still, there is a place in the vicinity of Dubrovnik which is free from noise, pollution and crowds. In the gentile valley of Konavle, in the lust greenery of the old wood, on the banks of a clean stream, in an ancient mill, time seems to have stopped. And dishes are prepared there in the same traditional way as our grandmothers used to make them.
Visit the Konavoski Dvori restaurant and enjoy the excellent ham, smoked cheese kept in oil, young lamb and veal baked under the iron bell, home-baked bread, grilled trout and other specialties of this renewed restaurant.
Distance from: Gruda 3 km, Cilipi – airport 13 km, Cavtat 19 km, Plat 21 km, Mlini 23 km, Dubrovnik 33 km
Život nam svakodnevno nameće sve brži tempo. U doba pokretnih komunikacija, teško je odvojiti malo vremena za privatni život, obitelj, prijatelje. Ipak, postoji mjesto u blizini Dubrovnika koje je ostalo pošteđeno buke, zagađenja i gužve. U pitomom Konavoskom polju, u zelenilu stoljetne šume na obali bistre rječice, u staroj mlinici kao da je vrijeme stalo. I jela se pripremaju na način kako su to radile naše bake.
Posjetite Konavoske Dvore i uživajte u izvrsnom pršutu i siru iz ulja, mladoj janjetini i teletini ispod saća, domaćem kruhu, pastrvama na žaru i ostalim specijalitetima ovog renomiranog restorana.

RESTAURANT KOMIN
The restaurant Komin with its beautiful terraces and the specific interiors of the Dubrovnik region offers you high quality lamb and veal roasted under a hollow bell shaped cover and a rich choice of meat and fish dishes, excellent wines and other drinks
Restoran "Komin" s prekrasnim terasama i specifičnim interijerom dubrovačkog kraja nudi prvorazrednu teletinu i janjetinu ispod saća, bogat izbor mesnih i ribljih specijaliteta, vina i drugih pića.

RESTORAN KAPETANOVA KUĆA - RESTAURANT CAPTAINS HOUSE - MALI STON
The glass annex to the cellar has added a special atmosphere to the seaside promenade of Mali Ston. The glazed space with terrace and about 80 seats turned the Captain's House to the perfect place for various events on holidays and special occasions. The team of skilled and experienced cooks will always prepare something special, from tagliatelle with langouste to the famous "black risotto"
The Captain's House stands out for its superior offer of shells, fish, crabs, meat dishes and drinks, for the ways of preparing these foods and for the staff hospitality.
A lunch or dinner in this well-known restaurant owned by the Kralj family since 1986 visited so many times by culture, politics and arts celebrities, will abound in pleasant moments, with discrete music, air-conditioned and attractive spaces, top service and friendly atmosphere.
The Captain's House fish cellar of Mali Ston is a place frequented by all connoisseurs of the Ston specialties who know how to enjoy the genuine Ston cuisine and a bottle of some fine wine of Pelješac.
Prednji stakleni dodatak konobe unio je poseban ugođaj na rivi i šetnici Maloga Stona. Staklena otvorenost s terasom uz osamdesetak sjedećih mjesta pretvorile su Kapetanovu kuću u savršen prostor za razne manifestacije za svaki blagdan i posebnu prigodu. Tim vrsnih i iskusnih kuhara smišlja uvijek nešto posebno, od tagliatella s jastogom do čuvenog crnog rizota.
Kapetanova kuća izdvaja se ukupnom ponudom:školjaka, ribe, rakova, mesnih jela i pića, načinom spremanja i gostoljubljivošću osoblja.
Objed ili večera u ovom renomiranom ugostiteljskom objektu u vlasništvu obitelji Kralj od 1986. godine, kojega su više puta posjetila znana imena kulturnog, političkog i estradnog života, bit će vam prepuni ugodnih trenutaka, uz lagana glazbu, klimatiziran i atraktivan ambijent, vrhunski servis i prijateljsku atmosferu.
Konoba Kapetanova kuća u Malom Stonu omiljeno je odredište svih poznavatelja stonskih specijaliteta, koji znaju uživati u pravoj stonskoj kuhinji i boci dobrog pelješkog vina.



Let us to take care of all your transports in Dubrovnik





Taxi and Transportation Service Dubrovnik - Radulovic Ltd - is a private company and we
don't represent other taxi drivers in Dubrovnik


.
Pile Gate -
Hotel Villa Dubrovnik

Pile Gate -
Hotel Villa Argentina

Pile Gate -
Hotel Villa Orsula

Pile Gate -
Hotel Excelsior

70,00 HRK


65,00 HRK


65,00 HRK


65,00 HRK
| | | |
| --- | --- | --- |
| | Simply the finest and most comprehensive ground transportation service in Dubrovnik !!! | |